1st Quarter 2020

Thank You for 20 Great Years!
Welcome to our first newsletter of 2020, our 20th year of service! We are looking forward to a year full of exciting changes as we work to offer your practice new tools for the patient financial lifecycle. We will also be celebrating all year long, and we hope you'll join in!
Make sure you find us on Facebook, as we will be having contests to celebrate our 20th year, and you don't want to miss out! We also hope to visit many of your practices in person this year.
It would be our honor to look you in the eye, shake your hand, and say "thank you" for your loyalty and the privilege of partnering with you in caring for your patients and responsible parties.
In addition, we hope to see many of you at industry events throughout the year. Please stop by our booth or table to say "hi" and hear about the exciting things coming including our iMaxx Insurance Optimizer.
---
Single Sign-On
OrthoBanc is moving to a single sign-on environment for the tools that we offer your practice. Rest assured that these changes are being made to protect the private information of your practice, your patients, and your responsible parties.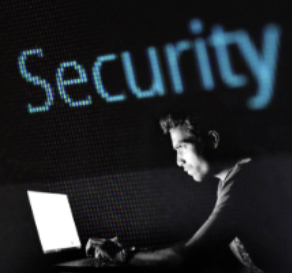 What is "Single Sign-On"?
A "User Name" will no longer be used; instead, all practice users will need to log in with an unique email address and confidential password. Please note: The email address cannot be a group or distribution email address. Please remember to keep us updated if staff changes occur that affect who should have access to your OrthoBanc, DentalBanc or PaymentBanc accounts.
Great News! You will no longer have to change your password every 90 days! You will be required to set up a new password that's at least 13 characters long. More information about what is required in the password will be provided when you set up your new login credentials.
Why?
Unique user IDs have always been the standard at OrthoBanc; however, this has not always been the practice of our users. By requiring a unique email address for every user, we can more easily enforce necessary security measures to protect your practice and the responsible billing parties you have entrusted to us. OrthoBanc views privacy and security as two obligations that must not be compromised.
How?
Existing customers with a unique login ID and unique email address will auto-migrate. This means that the user's email address will become their login ID, and they will be prompted to change their password. Existing customers using a group ID or group (shared) email address will need to provide unique email addresses. To set up users with individual, unique email addresses, simply complete the User Setup Form which can be found by logging in to our website and clicking on 'Resources' at the top of the page. Please send the completed form to us by fax at 888-758-0587 or email to [email protected].
When?
The sooner – the better! We expect to move to single sign-on this quarter, and an unique email address must be on file for every user at that time. Any user without an unique email address on file with OrthoBanc will not be granted access to our systems until a unique email address is supplied.
We are here to help!
Please call 888-758-0585, option 2, or email us at marketi[email protected] with any questions. We will be glad to assist!
---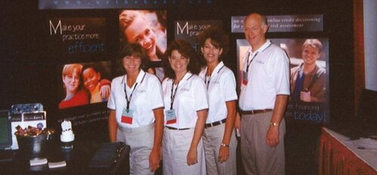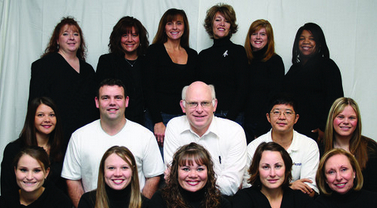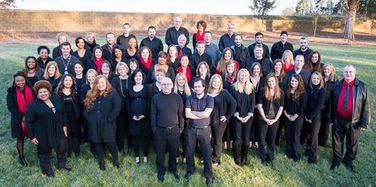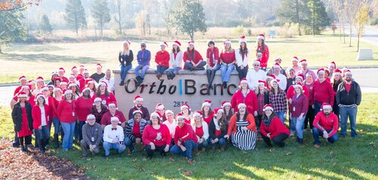 Celebrating 20 Years of Service
A look back at where we started & how we have changed.
2000
The year of big hair and big ideas. OrthoBanc began small but had a big plan. Three of these employees are still with us today!
2006
We spent the year taming our hair and growing our company. OrthoBanc had quadrupled in size by year's end!
2012
While all the cool kids were dancing "Gangnam Style," OrthoBanc continued serving practices and adding new tools for orthodontic and dental practices.
2015
A year full of changes in the world also brought changes at OrthoBanc. We had just moved and were excited about settling in to our new building in Hixson, TN.
2020
We are reflecting on how grateful we are for you, our valued customers, as we celebrate our 20th year of service. Thank you for being part of the OrthoBanc family. We are excited about what is to come!
---

OrthoBanc Deposits and Your Revenue Cycle
A Few Thoughts from our CFO, Shanna Rollins
OrthoBanc offers 4 draft dates – 5, 12, 19, and 26. These dates are used for the scheduled, recurring drafts. The deposits for each of these drafts will always occur 3-4 banking days after the draft. (4 days becomes necessary when there is a bank holiday.) We also have an extra deposit that happens around the 5th – 7th of each month. We added this deposit date as we began receiving more and more online payments. Online payments can happen any day of the month. We felt that the time between the deposit for the 26th draft and the extra draft (both 3-4 business days after these drafts) was too long to wait if a responsible party had made a deposit soon after the 26th, so we added this extra deposit date. This deposit will include any payments that are made between the 26th of the month and around the 2nd of the following month. We provide a deposit schedule that will give you the exact deposit dates for each month throughout the year. This schedule is available on our website under "Resources."
We are now processing some payments any day of the month, not just the 4 original draft dates. The any-day drafts are currently reserved for redrafting failed payments and online payments – but we have also begun to allow an "any day" payment when a responsible party calls in and needs to reschedule an existing payment date. Our future plans are to offer any-day drafts for the recurring draft dates as well. Once we do this, we plan to deposit these payments 3-4 banking days after the draft. This will mean you could be receiving a deposit every day – but they will all still be 3-4 banking days behind the draft. We will provide more information as those any-day drafts and deposits become available.
Each practice has their own system for processing OrthoBanc deposits. Ask yourself these questions – how do we recognize revenue? Do we set up a receivable and recognize the revenue immediately on contract date, or do we recognize revenue when the payments are made? Below is a summary of how I would account for both methods.
Setting up receivable when the contract is signed:
When the contract is signed, the total amount due is set up as a receivable and treatment revenue is recognized. When a payment is received, the receivable is reduced and cash is increased. If the OrthoBanc deposit is delayed into the next month, it has no impact on the financial reports because the receivable is already set up and the revenue has been fully recognized.
Recognizing the revenue when payment is made:
When the contract is signed, no revenue is recognized and a receivable is not set up. As the payment is made, the cash account is increased, and the revenue is recognized. In this case, a delay of the deposit into the following month would cause revenue to be recognized in the wrong period since revenue should be recognized in the period earned. Therefore, you would need to set up a receivable in the month of payment for the total amount of payments expected to be received in the following month (26th draft date deposit) and recognize the revenue. For example, last year the 11/26/19 payments were deposited into the orthodontist's account on 12/1/19. The orthodontist's office would need to recognize the total amount of the 11/26/19 payments, or 12/1/19 deposit amount, as a debit to a receivable account and a credit to their revenue. On 12/1/19, when the cash is deposited into the Orthodontist's account, they will credit the receivable and debit their cash account.
---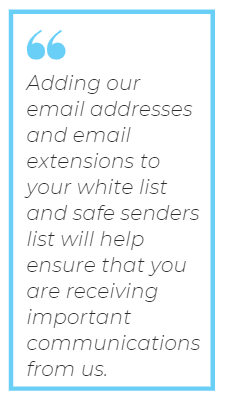 We work hard to keep you informed of what's happening at OrthoBanc, offers available to you, and topics that may affect you and your business. We are often finding though, that our emails aren't making it through to you. We know that can be frustrating.
So what to do? Below is a list of email addresses that we commonly use to reach out to you and your practice. It's important to add these email addresses to your "Safe Senders" list. The steps to do this vary based on the internet browser you are using. We recommend that you search the internet or your browser's help section for, "How to add email addresses to my safe senders list" for assistance.
Please add these emails to your "Safe Senders" list: [email protected]; [email protected]; [email protected]; [email protected]; and [email protected]. If you are using DentalBanc or PaymentBanc, simply change the email extension from orthobanc.com to dentalbanc.com or paymentbanc.com.
It's also good practice to have your office's System Administrator ensure that emails from our domains are whitelisted, or approved to come through to you: @orthobanc.com, @dentalbanc.com, and @paymentbanc.com.
---
We Are OrthoBanc
Meet Marla
As one of our original 3 employees, Marla has always been part of the OrthoBanc family. She serves as our CMO, leads with a customer-first focus, and believes in the importance of investing in others and yourself. She loves to show off pictures of her family including her 4 daughters and her 3 beautiful grandchildren, 2 of which are 1-year old twins! She enjoys working out and traveling with her husband, John, trying new foods, seeing Broadway shows, and singing in her church. Her dream is to write a few books and tour the country speaking about developing great habits and achieving remarkable customer service. You can hear her at AAO 2020 in Atlanta!
Meet Heather
Heather has been serving our OrthoBanc customers since 2007. Starting as a Customer Service Representative, she has now been a Customer Service Supervisor for 7 years. Heather enjoys hanging out with her family, playing with her dog, Roxy, traveling to the beach, cooking new recipes, learning about other cultures and languages, and, of course, shopping! She loves to laugh and enjoys a good joke or even a bad pun. Cool fact: Heather once drove a taxi in Mexico!
Meet Jayme
Jayme has been with OrthoBanc for 10 years and works hard as our Integrations Specialist to support our clients and her team. A few fun facts: Jayme's husband, Adam, is an amazing chef; her dogs, Bronx and Brooklyn, are the best dogs ever; she is a die-hard N.E. Patriots fan and even tried out for their cheerleading squad; she would lasso the moon for her niece, Dani; she loves spending time with her family and friends; and if she isn't at work, you may want to check the local gym.
Meet Josh
Josh started with OrthoBanc in 2014 and made his way from helpdesk support to ensuring our system security. Talk to him and you'll find out a few things quickly – he takes his work seriously, he loves his family, and he believes strongly in our military. He served 6 years himself and did 8000 miles of convoys in Iraq as a gunner and a driver. He is a staunch Georgia Bulldogs fan who also enjoys a little golf and has a newly found interest in blacksmithing. Last, but definitely not least, he invests in his community by helping a local non-profit build ramps for the elderly and those in need.